RIDE HARD.
DEMAND JUSTICE.
Based in Albuquerque and serving all of New Mexico, we are the motorcycle injury lawyers you want on your side.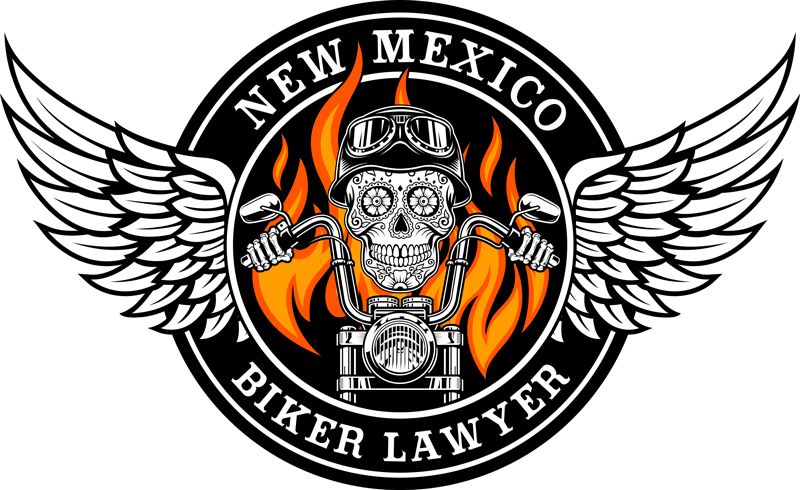 In over 20 years of dealing with motorcycle crash cases here in New Mexico, we have won hundreds of cases and recovered millions of dollars for our clients who have been injured while riding.
If you are a motorcyclist in New Mexico and you were hurt by a careless, distracted or drunk driver in our state, you need experienced lawyers who can provide you with the best legal representation; we believe that means a New Mexico-based law firm, who knows the local laws, courts, attorneys and system inside out. You can find that type of representation with us!
Millions Recovered For Injured Riders
You ride safe, but you can't control all the other drivers on the road. Many drivers are distracted, texting, or even drunk–and they are not paying attention to motorcycles sharing the road with them!
When bikers get injured, they often get hurt very seriously. We handle ALL biker injuries, from road rash to wrongful death and everything in between.
We have recovered MILLIONS in legal damages (including PUNITIVE DAMAGES) for motorcyclists injured in New Mexico.
Motorcycle Injury Attorney Eva K. Blazejewski
Experienced Biker Injury Lawyers
New Mexico Biker Lawyer (a division of Roadrunner Law Firm) is YOUR trusted legal advisor for all motorcycle crash cases in Albuquerque, Santa Fe, Farmington, Las Cruces, and every other corner of New Mexico.
Both in and out of the courtroom, the experienced personal injury lawyers at New Mexico Biker Lawyer know how to get you top dollar for your motorcycle crash case.
What injured motorcycle riders are saying about us
NEW MEXICO MOTORCYCLIST
Ed May
Awesome law firm! Awesome ladies! Heather and Eva helped me out when I needed it most. They didn't let a big insurance company bully us around and got the maximum amount we could get. With their help and support throughout, I got what I deserved after a hit and run. Can't state enough how awesome they are.
Thank you so much for your help and support. Five Stars!
NEW MEXICO MOTORCYCLIST
NATASHA "SNIPS" VARGAS
Eva was there for us immediately after my Fiancés motorcycle accident. She and her team were able to represent and fight for us while he was able to focus on healing. Thank you all! I greatly recommend New Mexico Biker Lawyer for great representation and justice!
Every motorcycle crash case is different. New Mexico Biker Lawyer understands this, and we know how to use the unique facts of YOUR case to maximize your legal recovery.
New Mexico Biker Lawyer's team of attorneys and paralegals have the years of experience needed to make sure you get EVERY DOLLAR you deserve.
Injured Bikers Deserve Compensation!
Those big billboard guys just churn and burn through as many cases as possible. To them, you are just a number.
New Mexico Biker Lawyer is different. We INTENTIONALLY keep our motorcycle crash caseload small so that we can give EVERY injured biker our PERSONAL, INDIVIDUAL attention from start to finish.
We treat our motorcycle crash clients like family. You will have a private number you can text at anytime–can even in the evenings or on weekends for emergencies.
We have recovered MILLIONS for New Mexico bikers hurt by the negligence and carelessness of drivers who don't share the road.
Our team of attorneys, paralegals, accident reconstructionists, scene investigators, and experts work together from day one to make sure you get every dime you are entitled to. From negotiating the total loss value of your bike and gear with the liability insurance company to taking your case to trial when the defendant's insurance company won't play fair–New Mexico Biker Lawyer handles it all.
You are in good hands with New Mexico Biker Lawyer. We are the top personal injury lawyers in New Mexico focused EXCLUSIVELY on motorcycle crash injury cases. We are LOCAL–New Mexico is our home. We don't have lawyers located in Phoenix or Houston phoning in your case.
And we don't bait and switch our clients.  Those other firms put big pictures of their "lawyer" up on billboards all over town–but they don't bother telling you that you'll never get to meet that guy. Instead, you'll be given an associate attorney, who might be right out of law school.
WHAT YOU SEE IS WHAT YOU GET WITH NEW MEXICO BIKER LAWYER. Eva and Heather are YOUR ATTORNEYS from day one. Our staff supports our work as your trusted legal advisors, but there is no substitute for having a lawyer on your side that you can trust!