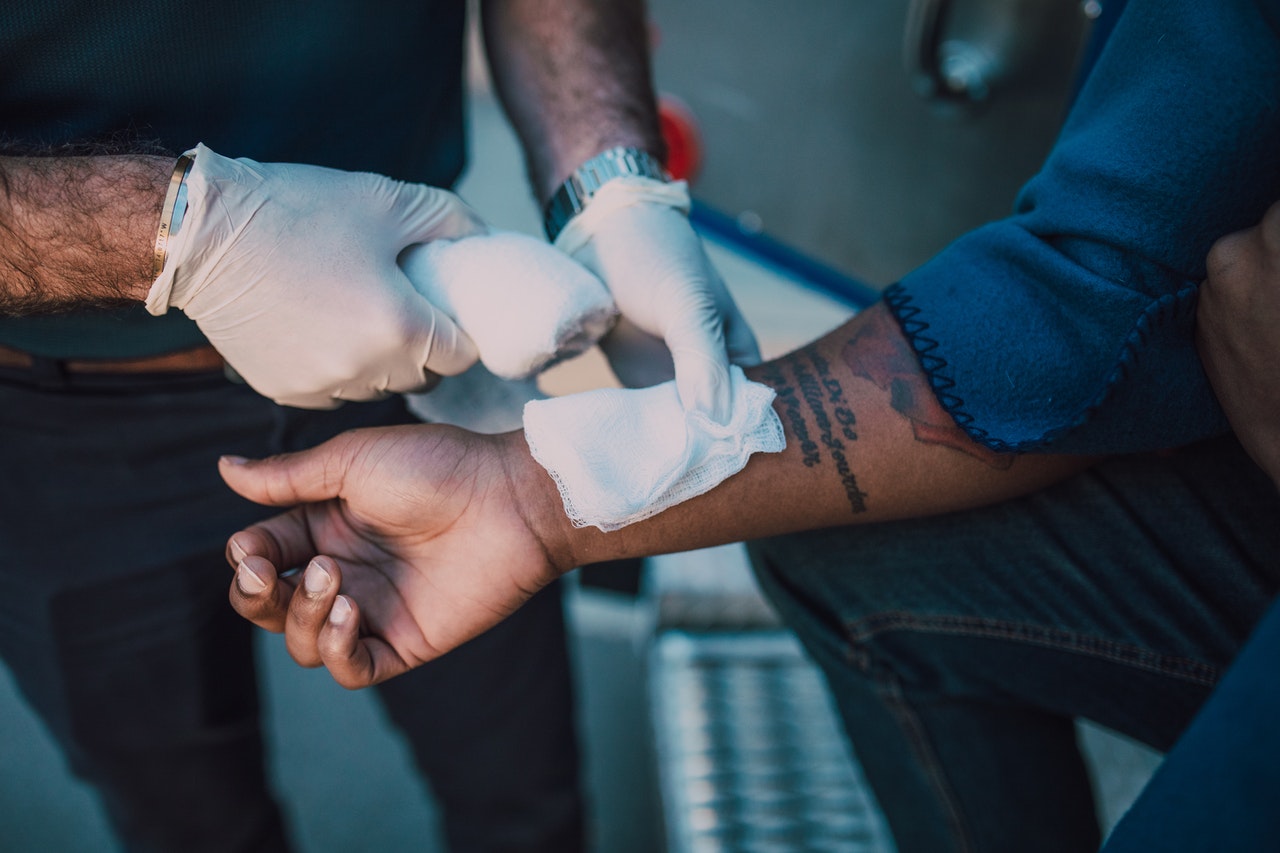 About the author : Roadrunner Law Firm Staff
Roadrunner Law Firm is pleased to offer the highest quality of legal services to members of our community. If you've been hurt in an accident, call Roadrunner Law Firm today.
New Mexico Biker Lawyer, (a division of Roadrunner Law Firm), was proud to bring the AMA Road Guardian Safety Course to our New Mexico motorcycling community this month.  Following all Covid-safe guidelines, we were able to bring a small group of New Mexico motorcyclists together.  The group learned how to care for their fellow riders injured in a motorcycle crash. This course was specific to teaching medical safety for motorcyclists.  Taught by Kris "Blinky" Hinson, a registered nurse who is also an avid motorcyclist, participants learned basic scene management techniques, first aid techniques, and life-saving measures.  She taught techniques like the jaw thrust maneuver, removing a helmet from an injured bike biker safely, how to tourniquet wounds, and how to splint fractures. These emergency measures aren't meant to replace the care of trained EMS and first responders. Instead the participants learned how to care for an injured rider before first responders make it to the scene of an accident.
Medical Attention is Essential Knowledge for Motorcyclists
As dedicated motorcycle crash attorneys, who exclusively handle motorcycle injury cases through our division New Mexico Biker Lawyer, we see everyday how catastrophic motorcycle crashes can be. We've handled all kinds of motorcycle injury cases, from simple road rash and whiplash all the way to death. As sponsors of the Road Guardians course, we learned just how wide the range of injuries for motorcyclists can truly be. Degloving injuries, amputations, and puncture injuries from windshields or road debris are unfortunately extremely common in the motorcycling community. Each of these injuries requires different care. Our participants were taught the basics and how to differentiate between these injuries, what to look for when assessing an injured motorcyclist, and how to safely render aid within their level of expertise.
What We Do for Motorcyclists
At New Mexico Biker Lawyer, we understand that motorcycle crash cases require a different skill set from your lawyer than an average motor vehicle collision. You need lawyers who are versed not only in New Mexico's tort (personal injury) and insurance laws, but in the various ways in which motorcyclists can get hurt. These injuries can vary greatly from the injuries you see in a car crash. That's why New Mexico Biker Lawyer brought Kris to teach this course for our New Mexico biker community. We are proud to support our biker community in this way, and are excited to bring Kris back for another Road Guardian Safety Course later in 2021.
Our participants raved about the course too! Take a look at what a couple of class participants had to say after the class.
As always, if you have been injured in a motorcycle accident, don't hesitate to call us with any questions today. 505-444-4321. New Mexico Biker Lawyer is proud to be the top local law firm serving New Mexico's motorcycling community.
This article was written by Eva K. Blazejewski and Heather K Hansen, attorneys and founding partners of Roadrunner Law Firm. They are corporate members of the NMMRO, and founding members of the National Academy of Motorcycle Lawyers.