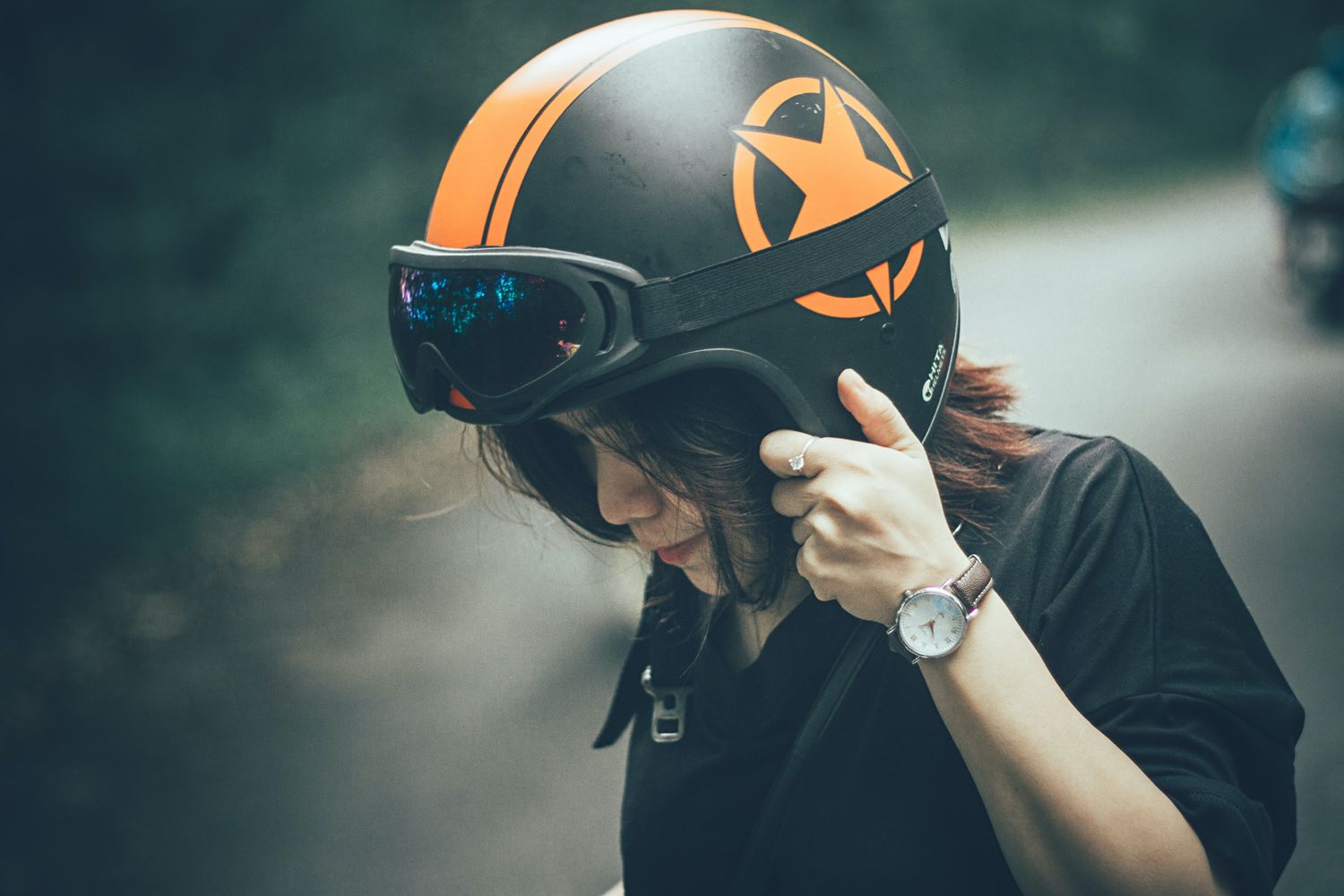 About the author : Roadrunner Law Firm Staff
Roadrunner Law Firm is pleased to offer the highest quality of legal services to members of our community. If you've been hurt in an accident, call Roadrunner Law Firm today.
This week we sat down with Jesse Beck, the Sales Manager at Motopia New Mexico. He walked us through the 3 keys to a good helmet anyone should consider before buying a motorcycle helmet. In New  Mexico, riding with a helmet is a matter of personal choice, but if you do decide to wear a helmet, we have some valuable tips for you. Whether you're a seasoned pro like Jesse, or just getting into riding, these tips could make a difference in protecting you from a traumatic brain injury (TBI). TBI's are very common in motorcycle accidents, and the severity of the injuries could be mitigated if you're wearing the right gear. Having the right gear is as simple as understanding the material, fit, and style of your helmet.
MATERIAL – Key number ONE
The amount you spend on your helmet is the amount you're insuring your head for. Make sure your helmet meets DOT standards!
Jesse broke it down for us saying that there are essentially two basic variants of helmets: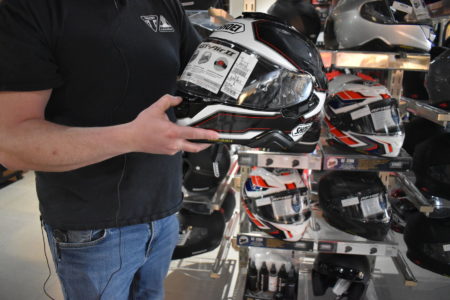 Plastic Injected Molded Helmets
Plastic Injected Helmets are built from a mold of a helmet that has plastic injected into it. These are often more cost effective, but aren't as safe. They're still often DOT approved, but if you go down, you may want more between your skull and the asphalt than just plastic.
Carbon Fiber Kevlar Fiber Glass Composite Constructed Helmets
Carbon Fiber, Kevlar, Fiber Glass Composite Constructed Helmets are pricier but built better. Jesse took the Shoei RF 1400 helmet off the shelf to show me the difference in quality. This helmet has multiple layers in it, as well as multiple crash zones. More than just the materials, it's better engineered for aerodynamics. Vents are punched in specifically for air flow that you can feel in the helmet when you hit 45mph+. This helmet also includes a defrosting feature to keep your visor from fogging up. Jesse says that if you're complaining about your visor fogging up, it's because you're in the wrong helmet.
FIT – Key Number TWO
One of the most important keys to a good helmet is the fit.  The main thing to do is get a helmet that fits you right. You want a new helmet that makes you feel like a chipmunk until it packs in. Jesse says he can't even chew gum in a new helmet, and that's a good thing. If you're wearing it and move the chin around, it should move the skin on your face, but not be uncomfortable.
The fit of a helmet is dependent on the shape of your head, and different manufactures all make helmets that fit differently. If you put more money into this purchase, you'll likely be offered the flexibility of swapping out different padding pieces to adjust the size and fit specifically for your head. Jesse says he's somewhere between a medium and large, so ideally, he wears a medium shell but runs large cheek pads and a large liner in his helmets. It's all about what works best for you.
If your helmet isn't comfortable, you're not going to want to wear it and it'll keep you off your bike. You should always consult with a pro and get fitted for a helmet. This isn't the type of purchase you can blindly make online and expect it to work for you. However, I found a couple sites that can help you get an idea for your head size. Check out Lid Picker!
STYLE – Key Number THREE
The style of your helmet is less about the look you're going for, and more about having the right tools in your tool box. Jesse has 14 bikes in his garage, and twice as many helmets. It's not because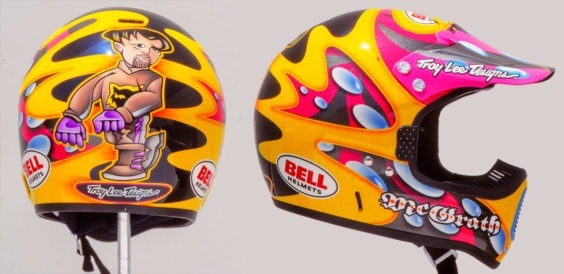 he's some big collector, but rather to make sure he has the right helmet for the terrain and conditions. He's not a huge fan of the popular 3/4 helmets that lack a chin bar. Jesse says anytime he's had a decent crash (which he says is more than the average guy), he's come up with a scratched chin bar, which could've been his face.
Color is also a very important factor. Jesse won't wear a white or black helmet. He likes exciting, bright designs that help people notice him on the road.  Maybe not a High-Vis helmet, but he told me to look up a picture of his new vintage styled Jeremy McGrath Bell helmet, which he had to have. Some helmets are completely customizable with pieces chin bars and visors. We joked about the Bell Rogue Matte Black Half Helmet looking like tactical gear, but maybe it's the perfect balance between 3/4 helmet and one that can protect your face.
If you have any gear questions or questions about the 3 keys to a good helmet, give Jesse Beck a call. Tell him we sent you- (505)839-0505.
And if you need legal representation, give us a call. We're the local authority on motorcycle accident cases, and we're here to help – (505) 444-4321.
This article was written by Nathan Cowan.  Nathan is the Marketing Director and a legal assistant at New Mexico Biker Lawyer, a division of Roadrunner Law Firm.  New Mexico Biker Lawyer is a corporate member of the NMMRO, and member of the National Academy of Motorcycle Lawyers.